Semalam kitorang dijemput menghadiri majlis hari jadi puteri tunggal kak Jumie dan abang Ashraf iaitu Aamira. Macam biasa, kalau dah berkumpul kat rumah kak Jumie, memang gamat jadinya! Tetamu yang datang penuh ceria... tuan rumah lagiiiiiilah ceria! Gamat satu rumah... memang best!

Lebih-lebih lagi, buat julung-julung kalinya, jemputan kali ni bertemakan warna merah putih. Ikut warna tema High School Musical. Apa lagi... tak pasal-pasal jadi perkumpulan wanita Umno pulak. Hahahaha...

So, kat bawah ni gambar-gambar sekitar majlis. Tengok jangan tak tengok! Betapa happynyer semua orang. Makan pun best! Kak Jumie siap buat homemade cake lagi untuk puteri kesayangan. High school musical cake tuuuu... kelas!!!

To kakak Mira,

Happie 14th Birthday!

~Mana birthday girl?~

~Tetamu-tetamu kecik~

~Si comel dan yang hensem ni *juliet le sweetheartlah yang punyer ;p~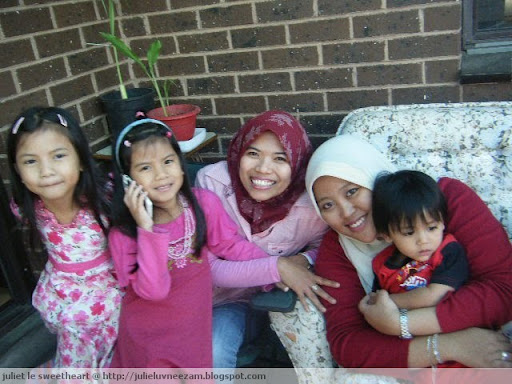 ~Ceria sokmo!~

~Makan time!~

~The youngest guest~

~Afifah & Jeff; the pengantin baru~

~Miss Faliq bibik yang rajin. Utensil pun warna merah tuuuu...~

~Niesreena yang comel ni buat lawaklah pulak~

~Seronoknya mereka ini... Itulah petua awet muda... =)~

~Jom nyanyi lagu birthday ramai-ramai!~

~Kakak Aamira bersama-sama HSM's cake hasil tangan mamanya~

~Niesreena dah tak sabar nak mamam kek~

~Aaaaauuuummmmmmm... Nyum nyum nyum...~

~Ini bukan lakonan... ini betul-betullllll... hahahaha... bak kata enche Neezam, "first time tengok abang Ashraf basuh pinggan" ;p~

~Us and the birthday girl~

~The Fatins~

~Yang muda belia sahaja... hahaha...~

~Baby Naufal bersama abang Irfan. Kemain lagi posing Naufal!~

~Mereka yang memerah otak di bumi Melbourne ni~

You might also like...